14 July, 2020
Sparking magic into our rewards scheme
When our customers told us they wanted our customer rewards scheme Sparks to change, we listened. We waved goodbye to the points that they told us were confusing and kept all the best bits. And then some!
Since joining M&S, Product Manager Cameron has been focussed primarily on relaunching this digital first loyalty scheme which has now become simpler and more rewarding, offering a more personalised experience with instant rewards, a wider selection of charities to support and more tailored personal offers, so customers can be confident that good things happen for them and the causes they care about every time they shop with M&S.
As part of our larger focus to become a data-led business that better understands our customers – Sparks has been a key project; and was what inspired Cameron to join M&S in the first place.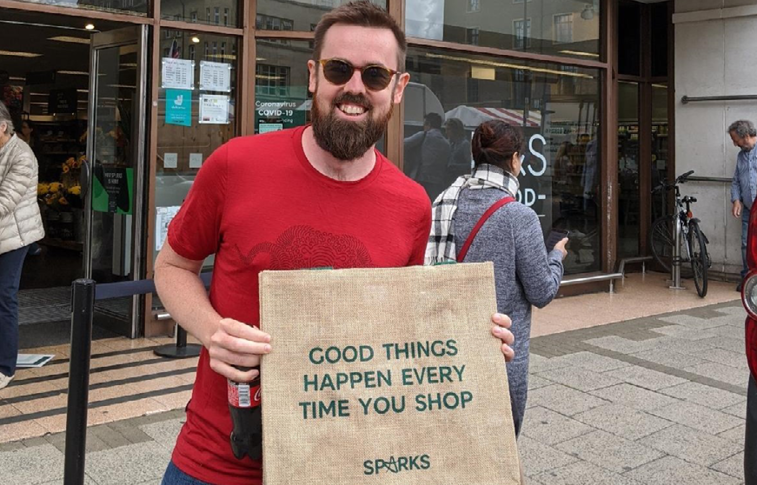 "Sparks touches all parts of M&S, and it is a vehicle for us to engage deeply with our most loyal & high value customers", says Cameron. "The data we collect is used by our data scientists and analysts to inform decisions, personalise our digital experiences, and deliver relevant offers to our customers. And the proposition we deliver through Sparks aim to reward our customers for their loyalty and should in turn result in customers shopping more often with us and for longer."
Cameron was keen to take on the challenge as he could see a great opportunity to work on a diverse set of problems across the business. As a product manager from outside of the retail industry, he was also excited about broadening his experience & and delivering great customer experiences in a fast-paced environment.
"The Digital & Data product team is growing, and we have a huge aspiration to deliver growth for M&S through personalisation. As a product manager joining M&S there are great opportunities to get stuck in and make a difference, whether that's through building new experiences, or maximising existing ones. There's also plenty of room to make a mark through contributing to and growing the product culture at M&S."
It's a team effort!
Working with stakeholders across Digital & Data and colleagues in Food and Clothing & Home to define & refine priorities to develop the roadmap for Sparks – Cameron's role has seen him lead cross functional teams of UX & engineering to deliver the roadmap of Sparks experiences for our customers.
"I also get to work with colleagues in marketing, retail and M&S.com to align on how we operationalise and go-to-market. It's a tricky balance and full of such interesting and varied challenges. Like right now where we're focussing on making it easier and faster to experiment & validate our ideas with customers in a safe way."
He's also had the chance to do customer research as part of the early proposition design which he really enjoyed – not only because he got to watch and hear customers talk about M&S with such warmth and optimism, but because he was able to receive direct feedback to validate ideas on where to take Sparks.
"Once we had decided on the direction my role shifted focus to leading the digital delivery of the new proposition. Sparks touches so much of M&S and so it's taken a huge team effort across not only the new engineering teams that formed to own and deliver the Sparks experiences, but also the Retail Technology & M&S.com product teams who look after experiences in each channel."
"Being a large organisation, different business units have different rhythms, but on the whole, I've found M&S to be a great place to work. In my short time at M&S I've had plenty of support from the Digital & Data leadership team, where there's a culture of senior leaders being regular stakeholders for product managers. I've also had opportunities for professional development through external courses which have been valuable."
Join us in turbocharging digital across M&S
Launching the new Sparks scheme has been a significant milestone on our journey to turbocharging our digital transformation, and Cameron has played an integral part.
If you're interested in joining our Digital & Data team like Cameron, now is a really exciting time! Learn more about our current vacancies today.
Don't see anything that takes your fancy? Why not join our Talent Community and be the first to know about new roles and updates from the business.